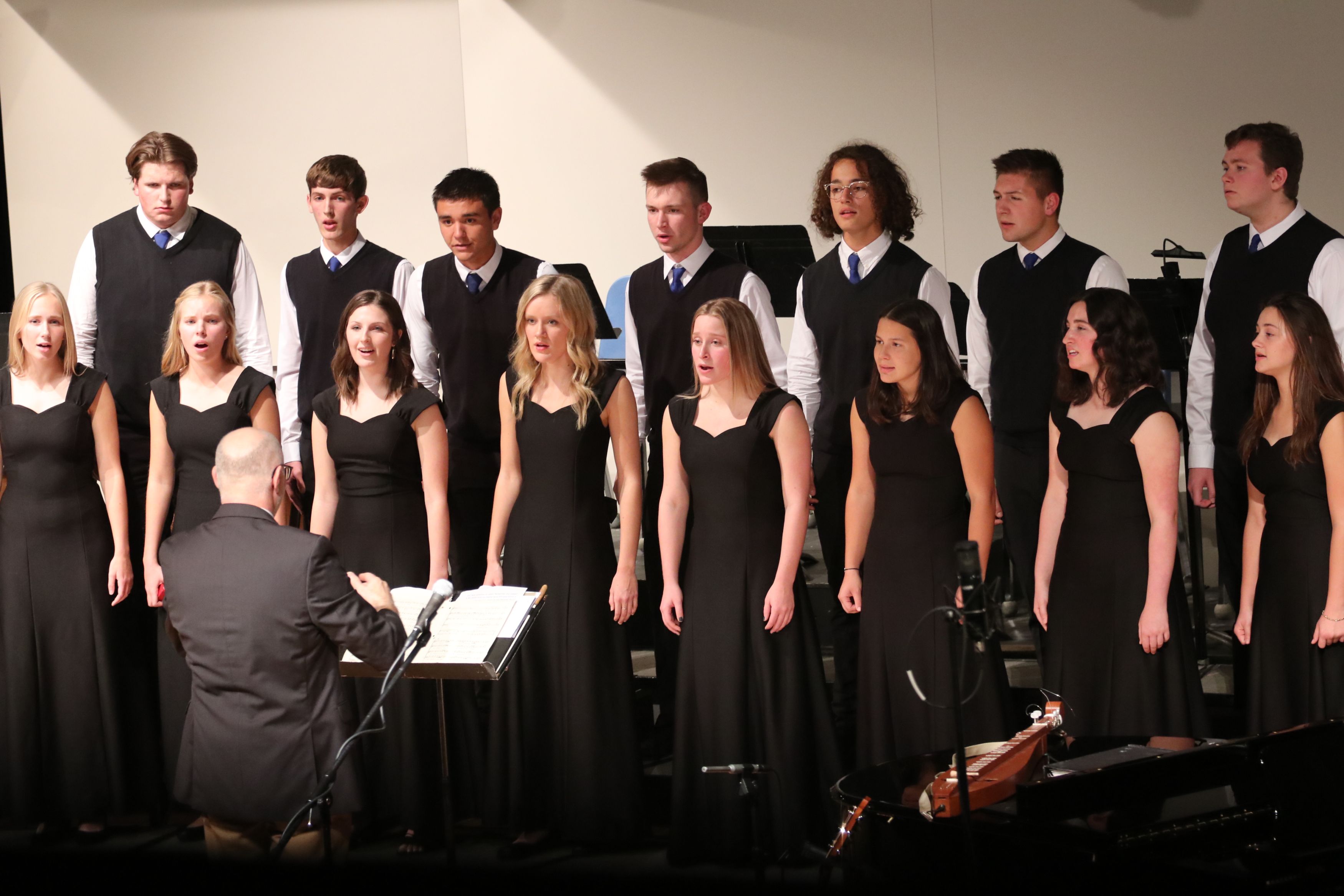 I will sing to the Lord as long as I live; I will sing praise to my God while I have being. - Psalm 104:33
Students at Central Christian School will explore music and find the deeper meaning of singing and performance as an outlet for worship and self-expression.
Starting in Kindergarten, students begin with vocal instruction and then continue with chorale instruction through middle school and first semester of freshman year. Students can elect to continue with choir and over 75% of our high school students do just that! Humans are wired for rhythmic togetherness; from choral singers, musicians, dancers, to rowers, science is coming in that we bond best when we are making music with each other.
Elementary Vocal
Elementary Students at Central Christian learn to use their voices to praise the Lord, while experiencing the sense of Christian community that choral singing brings. A variety of sacred and folk songs are used to teach music literacy through the Kodaly Method of teaching vocal music. Students are also taught to play a variety of percussion instruments, such as xylophones, drums and other rhythm instruments. Fourth grade students learn to play recorders. Music classes meet twice a week and perform a Christmas Musical and Spring Concert each year.
Middle School Choir
All students in middle school participate in choir three times per week. Building on the strong choral foundations in elementary, students at this age begin developing more independence as they are introduced to more layers of harmonies. Elements of music; rhythm, scale and chord theory, music terms and round out this experience. Songs are presented in public concerts, one each semester.
Chorale
The Central Christian Chorale consists of Freshmen and Sophomores. Chorale meets 2-3 times weekly and performs at our three public concerts. As vocal ranges expand at this age, solid 4-part singing can be expected and healthy strong singing habits are encouraged and formed during this stage. This is mandatory for Freshmen for the first semester.
Concert Choir
Central's Concert Choir is our large performing ensemble. Covering the best of choral literature from the Renaissance through current composers provides a rich experience that combines so many elements of the human and Christian experience; history, theology, languages, emotional expression, and nurturing personal confidence and growth through public performances. Musical literacy, vocal independence, production and expression are cornerstones of singing at this age. Concert Choir is elective first semester and by audition for the spring semester. Participating in our Mennonite Schools Council choir festival with nationally recognized directors is a highlight of the spring semester, as well as church concerts in our vicinity.